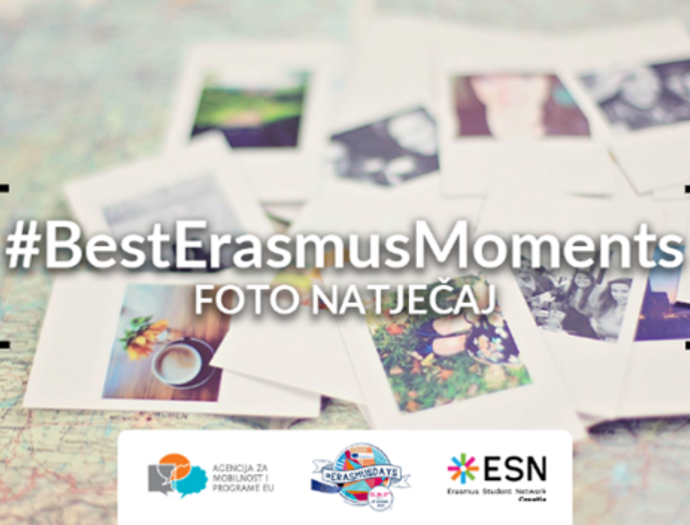 Erasmus Days 2020 by ESN and garagErasmus – a short look back
In the aftermath of the Erasmus Days 2020, which took place from 15 – 17 October 2020 all over the world, we asked our partner organisations Erasmus Student Network (ESN) and garagErasmus (gE) to share some of the top activities they carried out. Here comes a short look back of this year's edition, enjoy!
ESN Croatia
#BestErasmusMoments photo contest:
In cooperation with The Agency for Mobility and EU Programmes, Erasmus Student Network Croatia organised a photo contest in the spirit of this year's Erasmus Days. Since mobility is looking a bit different in 2020 in comparison to the previous years, the theme was "Erasmus in challenging times", and its main target group were our outgoing students. The contest and its promotional campaign lasted for three and a half weeks (21 September - 14 October) and the winners were announced on the last day of the Erasmus Days, 17 October, on the ESN Croatia and The Agency's website.
ESN Serbia
Erasmus+ Chat: Student mobility during the pandemic and the future of the Erasmus+ programme:
In collaboration with the EU delegation to Serbia, ESN Serbia hosted a webinar discussing what mobility during the pandemic looks like from the perspective of those currently undertaking one. Among those who shared their experiences was Elena, who is currently on her Erasmus exchange, as well as Nikolina, who is on the European Solidarity Corps project. Irina Veselinović, Liaison Officer of the Erasmus Student Network, presented the survey conducted earlier this year by ESN, explaining how mobility in Serbia was impacted by the pandemic as well as what the future holds for the Erasmus+ programme.
ESN Georgia
What it feels like being an Erasmus student - sharing experiences: Former Erasmus students from Georgia recorded short videos about their experiences and benefits of Erasmus+ mobility to encourage future Erasmus students. They collected seven videos in total and uploaded them on their stories on Instagram and Facebook.
Studying abroad during the COVID-19 outbreak - challenges and experiences: This online meeting was held by exchange students whose exchange semester was full of pandemic panic. They had a live stream on Facebook with three students and one moderator.
#ErasmusDays2020: garagErasmus' 4th edition
This year, garagErasmus organised a testimonials campaign on reasons why and how we should keep going on Erasmus exchanges. International mobility is one of the most-affected sectors by the COVID-19 pandemic, and the Erasmus Generation has especially suffered from the consequences of the pandemic on mobility restrictions. This is the reason why we found it necessary to motivate all the sectors involved in international exchanges to share their experiences and opinion to their peers and show that no pandemic could stop mobility exchanges: innovation capacity and creativity are key to overcome current obstacles.
On the occasion of the #ErasmusDays2020, members of our local groups in Poland (gE4Silesia), Italy (gE4Bologna), Belgium (gE4Brussels) & Greece (gE4Athens) told us the reasons why and how we should keep going on Erasmus.
Furthermore, our Director Carlo Bitetto had an interview with the Erasmus+ project coordinator and our member from RUDN University (Moscow, Russia) Mario de Martino. The conversation was mainly focusing on answering the big question posed on our campaign for #ErasmusDays2020: "Why Erasmus and international academic mobility?"
In particular, it was discussed what garagErasmus is all about and how RUDN students can be engaged. What initiatives have been carried out during and after the pandemic? In the end, the interview focused on our network & #Erasmusplus initiatives.
You can watch our promotional video here.
Edited by Service Provider
Cologne, 5 November 2020
---