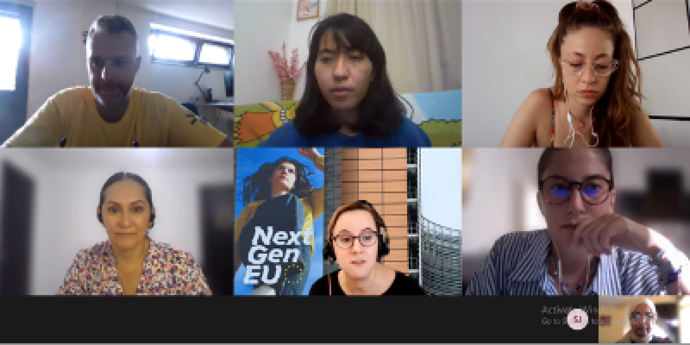 ESAA Liaison Group Monthly Meeting
ESAA LG monthly meeting took place virtually on 14 September 2022 in presence of Ms. Hélène Banegas (Policy Adviser for Erasmus+ International Alumni at EACEA, EC) The ASAF Interim Board member Hanan Meckawy represented ASAF in the meeting.This series of meetings follow the initiative of the European Education and Culture Executive Agency (EACEA), where further collaboration and exchange of knowledge are foreseen between Alumni networks funded and supported by the European Commission.
Together with ESAA Liaison groups representatives – ESN, OCEANS, EMA, GaragErasmus, and WBAA, the cooperation among networks, ESAA LG: key point activities and future plans were discussed in addition to the evaluation of the ESAA Capacity Building Seminar 2022. The meeting was moderated by Patricia Morales Sanchez, ESAA community manager.
ESAA LG monthly meeting starts with introduction round (EACEA and ESAA LG, ASAF and WEBA).
The first topic - Cooperation between networks – Key point activities and future plans and Project from ESAA LG was discussed in details- the project proposal will be submitted from the ESAA LG to the EACEA consideration. ESAA LG together with the colleagues of ASAF and WBAA to create a "process" to use the outreach resources, as a template was also created in the past for this purpose. It was agreed that this topic should be part of the next meeting.
The second topic concerning the evaluation and feedback of the ESAA Capacity building seminar 2022 was illustrated in a presentation and discussed among the attendees and came up with some recommendations:
Participants selection common form for all other similar future activities should be considered.
The selection should consider more time to be implemented and specially to be impartial in the selection.
It is important to bring people to the seminars that are more in touch with the project.
The ESAA Projects updates from the calls 2021, 1st and 2nd calls 2022 were discussed as well:
1st 2022 - all projects should be finished by September 30th -
2nd call 2022 - The feedback for ESAA LG is ready. The project submitters will be contacted and informed about the updates.
This meeting was held virtually on 14th of September 2022 at 3:30PM (CET).
The meeting ended around 5:45PM (CET) and the next meeting scheduled on Wednesday, 12/10/2022 at 15:30 CEST
Hanan Meckawy
edited by the service provider
Cologne, 21.09.2022
---