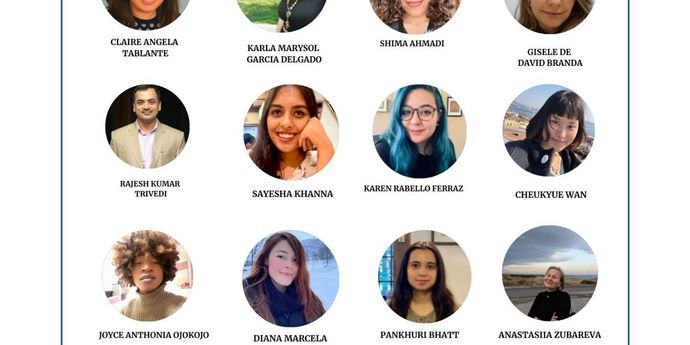 2021-10-14
Project News
General News
For the first time, Intercultural competence workshops are being delivered to EMJMD students!
This year 16 Erasmus alumni were selected to fulfill one mission: becoming the first generation of Erasmus intercultural trainers. Together, they support the intercultural journey of the new cohort of EMJMD (Erasmus Mundus Joint Master Degrees) students. Through intercultural competence workshops, Alumni and new students learn about culture, diversity and develop skills necessary for intercultural competence.
The project was created by Diana Lizarazo, Colombian alumni of the Global MINDS programme: The European Master in the Psychology of Global Mobility, Inclusion, and Diversity in Society. This Master programme focuses on social and cultural psychology topics and puts emphasis on the psychological aspect of human mobility and intergroup relations.
"Throughout my academic experiences in Global MINDS, I understood the positive impact that reflecting and talking about culture brings to individuals. It is through these conversations that we have the power to teach about ourselves and learn about others. Now I embrace diversity and emphasise the relevance of discussing our similarities and differences, to recognise ourselves in the others and therefore, to learn how to interact with different people in different contexts."
Diana does not work alone. A team of three volunteers from the Erasmus Mundus Association (EMA) supported the project: Isyatul Azizah and Hiba Mohammad contributed to logistics, and Rashi Maithul with marketing and graphic design.
The project was divided into two parts. In the first part, a group of 15 volunteers was selected to receive intercultural training. Students from different cultural backgrounds decided to participate in this experience and were immersed in an Intercultural academy for 10 days. The training was delivered by Felix, Marissa, and Nele, intercultural trainers of Intercultur, the academy selected to provide th training. During the two weeks of intensive online training, our team of 16 trainees (including Diana) received the knowledge necessary about culture, intercultural competence, and how to become an effective trainer in both face-to-face and online settings.
In the second part of the project, our trainees were placed in couples and developed their own intercultural competence workshops based on the knowledge acquired in the academy. Trainees were assigned to different EMJMD programmes that registered to receive these workshops. The workshops were divided into two sessions of 2 hours each and included theory and interactive exercises to encourage active learning. In the first session, the workshops focussed on culture and identity, and the second session focused on intercultural competence and empathy. Currently, the new cohort of EMJMD students is receiving the workshops!
The project will end soon, and by the last week of October, our trainees: Aigerim (Aika), Karen, Sayesha, Shima, Anastasiia, Joyce, Dipak, Rajesh, Gisele, Pankhuri, Aaisha, Claire, Hilal, Cheukyue (Cherry), Diana (Didi) and Karla will receive their certification as intercultural trainers after delivering 32 hours of workshops to the EMJMDs students! Without them, this project would have not been possible. Thank you all!
14 October 2021, Diana Lizarazo, Project Coordinator
edited by the service provider
---