Erasmus Mundus Association

General Information
The Erasmus Mundus Students & Alumni Association (EMA) was founded in 2006 as an initiative of the Directorate General for Education and Culture (DG EAC) of the European Commission with the aim to connect students and graduates of Erasmus Mundus Joint Degree Programmes. In 2014, the Erasmus Mundus Programme became a part of Erasmus+ and EMA joined the Erasmus+ Students and Alumni Association (ESAA). Over the years, EMA grew into an international organisation with more than 12.000 members and with presence in 170+ countries. Effective 2019, EMA is registered as an international non-profit making association under the Belgian Laws.

We offer an international network for Erasmus Mundus students and alumni. To network and become active within the Association, our members can become volunteers and join our different Management Board Units, become Program Representatives of an Erasmus Mundus programme or Country Representatives of the country they live in. Furthermore they can become Project Leaders, leading projects related to EMA's mission and vision.
Overall, EMA volunteers are active amongst their fellow students and alumni fostering interaction and community belonging and form a global network for the international realisation of the Association's mission.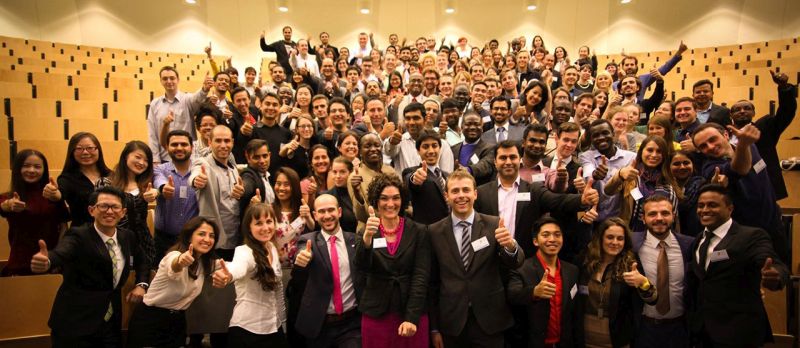 Vision & Mission
EMA´s overall vision is to be changemakers. "Striving to impact the world at large, by addressing important issues that affect our global society".
As such, EMA's overall mission is to:
Promote higher education.
Contribute to the quality and efficiency of internationalization and jointness of the higher education sector.
Create an environment conducive to enhance lifelong learning and the mobility of its members.
Provide a platform to develop leaders and changemakers of tomorrow and commit to promote the sustainable development goals.
Strengthen dialogue on education, policy, employment, and environmental, social, political and economic development.
Empower and promote the social, economic and political inclusion of all, promoting equity, social cohesion and active citizenship.
To practically implement these ideas, EMA members function as ambassadors of Erasmus Mundus, spreading its message around the world. Since its foundation, EMA members have initiated or taken part in over 150 fairs, information seminars, and promotional activities worldwide. Our global and very diverse community is our main strength, whereas we utilise the wide range of knowledge that our members contribute to the organisation to follow our mission. Together we build partnerships and create projects to contribute to the quality of international mobility, strengthen the dialogue on education related topics, and empower especially minorities.
Aims
Represent the students and alumni of the Erasmus Mundus Joint Programme (EMP) and give them a place of opportunity where they can share ideas and expertise.
Serve the interests of EMP students and alumni.
Become a forum for networking, communication and collaboration.
Promote EMPs in industries, academia and the corresponding fields of the EMPs as European programmes of excellence in international education.
Assist EMP students and alumni to operate within EMA's core values of democracy, equality, transparency and accountability.
Provide EMA members with an opportunity to contribute to EMA, their respective EMP, and to society, benefiting from the personal skills they have acquired through their participation in an EMP programme
Support and foster research, innovation, cooperation and encouraging members to take part in democracy.
Values
Excellence: Erasmus Mundus programmes are highly selective with grants awarded to only 5% of applicants. No matter the direction taken after graduation, our members aim to succeed.
Diversity: We take pride in and see a great deal of potential in our diverse backgrounds, cultures, and professional profiles.
Equality: In EMA everyone is treated equally. Our members have created advocacy groups such as the EMA Women and LGBT Networks. We also initiate other projects to increase awareness among our members and partners of our social responsibility in relation to international events, conflicts, and daily struggles around the world.
Education: Our members value immensely that they have had the opportunity to receive an exceptional international education and are committed to improving educational experiences for others.
Development: Our members are dynamic professionals who constantly seek personal and professional growth. The Professional Development Team together with EMA Networks and external partners conduct webinars, mentoring programmes and face-to-face training and workshops. We support entrepreneurship of members through networking and projects.
Sustainability: Many of our members are passionate about environmental issues and are eager to promote a culture that focuses on sustainable practices. With the help of our Sust-EMA-bility Network, EMA has adopted these practices in the planning of our events.
For more information please visit www.em-a.eu.
Become a volunteer
Anyone who has been benefited in terms of mobility from the Erasmus Mundus Joint Master Degrees (EMJMDs), or the predecessors (previous versions), or the successors (future versions) of such EMJMDs, previously also doctoral programmes, and also those benefited by way of mobility under Key Action 1-Bullet 1 of Erasmus+ Projects, or the predecessors (previous versions, like Action 1, 2, and 3 programmes) are eligible to be members of the Association. If you would like to become a volunteer, check out our website for more information.
All EMA members need to request membership by joining the Community Portal: members.em-a.eu
Information for volunteers and how to become one can be found here: www.em-a.eu/en/become-a-member
Student/Member services
If you are an EMA member or eligible to become one, make sure you are registered/register on EMA´s Community Portal to connect with other members and be updated on our activities.
EMA Community Portal