Our mission is to enhance cooperation among Erasmus+ students and alumni. We support our partners' activities, which in turn focus on strengthening their networking, professional development and intercultural learning, while promoting higher education in Europe and worldwide partnerships.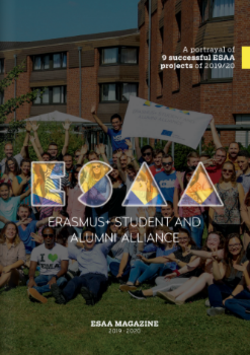 ESAA Magazine 1/2020
Inspiring ESAA projects from ESAA 2019-2020
On the basis of questionnaires covering different aspects of the ESAA project implementation, answered by the project organisers themselves, this edition showcases 9 successful ESAA projects from 2019 and the first half of 2020.
Read now