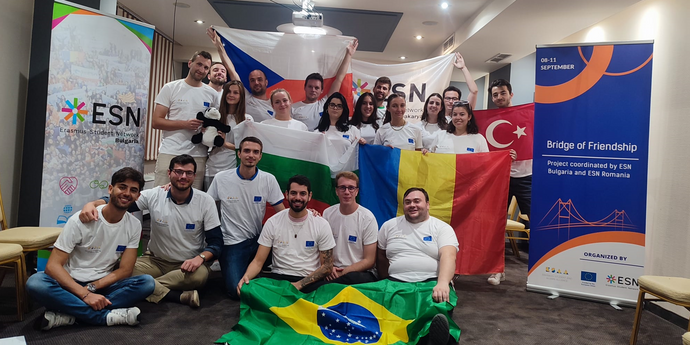 14 Erasmus+ alumni from Bulgaria and Romania will become mobility ambassadors
14 Erasmus+ alumni who completed their mobilities in Bulgaria or Romania participated to a training event in Sofia, between 8th – 12th September, in order to become ambassadors of the Programme. During the training sessions, they gained the communication abilities and other soft skills needed to promote Erasmus+ opportunities in their home countries, as well as Bulgaria and Romania as mobility destinations, with the help of promotional materials provided to them by the Project team.
Bridge of Friendship is a project in collaboration between two ESN National Organisations, Bulgaria and Romania, in the context of 2022 - European Year of Youth. The project is tackling common needs - the decrease in inbound students received by each country in the past years.
The main outcome was the formation of a network of 14 ambassadors, alumni of mobilities in Bulgaria and Romania, that will go on to promote the Erasmus+ Programme in their home countries and the two Programme countries where they finished their mobilities as Erasmus+ destinations.
The participants joined us for a training event in Sofia, between 8th – 12th September, at Hotel ZOO, which provided the Project team with all the necessary amenities (accommodation, meals at its restaurant, a conference room for the day sessions).
The day training sessions were centred on Erasmus+ opportunities (held by the Bulgarian National Agency), culture shock and intercultural dialogue, public speaking for holding presentations, storytelling for showcasing their Erasmus+ experiences in the two countries etc. The participants were distributed promotional materials at the end of the event (personalised T-shirts, leaflets with information about Bulgaria/Romania, and promotional stickers), to be used in their activities in their home countries.
Besides the training sessions, the participants also went through bonding activities by showcasing their mobility experiences in Bulgaria/Romania, by taking part in cultural activities that highlighted similarities and differences between the two countries, and by attending the evening social programme.
Mihail Paskov
edited by the service provider
Sofia, Bulgaria October, 2022
---