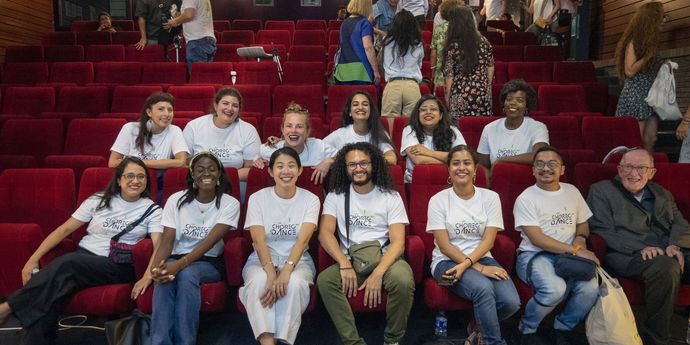 Bringing Dance around the World to the Big Screen in Clermont-Ferrand, France
Students and alumni of Choreomundus, the Erasmus+ International Master in Dance Knowledge, Practice, and Heritage, reconvened at Choreo Dance Film Festival (CDFF) from 28-31 August 2022 to celebrate dance on film with special focus on the environment through the theme of "The Crises That Move Us". Through a firm belief in diversity, equity and inclusion, CDFF became the platform for unseen bodies and unheard voices—dancing and telling stories about the change we hope to be in these unprecedented times.
Choreo Dance Film Festival (CDFF) is Choreomundus' first global platform for dance on film, with the aim to cultivate a new generation of embodied dance filmmakers who are alumni and students of the Erasmus+ Choreomundus International Master in Dance Knowledge, Practice and Heritage. In celebration of the 10th anniversary of Choreomundus, CDFF was held at Clermont-Ferrand, from 28 August to 31 August 2022 in conjunction with the fourth Choreomundus Alumni Conference and Choreomundus International Dance Festival.
As soon as funding was secured from Erasmus+ Student and Alumni Alliance (ESAA), a Call for Volunteer was released in March 2022. By end of March 2022, CDFF Organising Committee was formed, comprising of 12 Choreomundus alumni and students. In line with the European Year of Youth 2022, the Committee operated in pairs following a mentoring scheme, placing alumni in an active mentoring role by creating opportunities for them to collaborate with current students. There were 6 pairs in total: planning, curation, marketing, communications, logistics and outreach. As a group, they met once a month for 1-2 hours of discussions and updates. It was a challenge to find the right meeting time, as everyone was working from a different time zone. There were many meetings amongst the teams themselves as well as other meetings with service providers and various stakeholders. In total, the organising committee has invested 8,685 minutes of their volunteer time.
In April 2022, a Call for Submission was released to Choreomundus alumni and students on FilmFreeway. By the closing date in June 2022, we received a total of 85 film submissions from 34 countries. Thirteen Official Selection films were carefully chosen based on their artistic merit and unique approach towards the environmental theme of CDFF 2022. Other than our internal jury committee, we brought together an impressive external jury made up of esteemed dance-filmmakers from France, India, Nigeria, and Costa Rica.
The opening night was held at La Jetée, home to Clermont-Ferrand International Short Film Festival, the most important short film event in the world, who became our first festival partner. The second and third nights were held at Salle Georges Conchon, sponsored by the City of Clermont-Ferrand and Réseau International Des Villes De Michelin. There were panel discussions with the filmmakers after the film screenings on the first two nights and an award ceremony on the last night. Each night was livestreamed on CDFF YouTube Channel to enable audience to watch and comment from afar. Four awards were delivered: the Grand Jury Award, CDFF Official Award, Gore Award (named after Professor Georgiana Gore, Founder of the Choreomundus Programme) and Audience Choice Award. On 31 August 2022, a collaborative workshop on dance filmmaking was conducted by Clotilde Amprimoz (ChoréActif) for Choreomundus alumni and students at La Comedie in conjunction with Choreomundus International Dance Festival. The participants made a dance film together at the end of the workshop.
The reception of CDFF was incredibly overwhelming and positive. The events went smoothly as planned and were warmly received by in-person and virtual audience from more than 50 different countries. CDFF rejuvenated artistic and human connection among a community of dance lovers who deeply care for the well-being of one another and for the sustainability of dance while building capacity and fostering professional growth. On average, we had close to 100 people attend our events in person every night. Our virtual audience continues to grow due to CDFF's strong presence on social media. The audience, both in-person and online, expressed positive reviews and feedback. We published 44 posts with meticulously designed flyers and 138 stories on our Instagram where we have reached 2,071 accounts and gathered 271 followers. Our YouTube channel has 91 subscribers with 2,322 views up to date. Our Facebook account has 291 followers and close to 2000 reach. We continue to grow our audience on our website: https://choreodancefilm.org/ We published a CDFF Programme Brochure 2022 to convey the objectives and vision of the festival, the programme, the featured films and filmmakers, the organising team, and our festival partners. We also produced a CDFF Official Trailer and a Promotional Film that included interviews with the organising committee.
By partnering with Festival du Court Métrage de Clermont-Ferrand, Réseau International des Villes de Michelin, MAPS • migrating Artists Project and Dan.Cin.Lab, Artsforward, Tierra Púrpura, ChoreÁctif, Knowbox dance, lightlysessions, CLE art & design, Duet with Camera, Multílogos, SaberEsDanza and New Wine Studios, we achieved our objective of bridging higher education with the general public and promote collaborations across different organisations. This supported Cluster 4: Capacity Building by providing a platform for Choreomundus alumni and students to network with industry experts, fostering professional development, training and skill enhancement and facilitating further collaborations which are already unfolding after the festival.
We also fulfilled our objective of representing dance as Intangible Cultural Heritage (ICH) on film, especially dances from BIPOC (Black, Indigenous, People of Colour) communities affected by environmental crisis as well as using film to mobilise the knowledge of dance. This reflected Cluster 3: Increasing Social Inclusion, Empowerment, and Participation which we applied for. The dance films showcased contents equitably from all over the world, as a reflection of the diversity of Choreomundus participants and the Erasmus master's programme itself. Giving visibility to marginalised cultures that are rarely shown in mainstream media addresses equity concerns, lending voice to peripheral communities, facilitating understanding across cultures, religions, and political divides as well as promoting cultural heritage. We also ensure accessibility and participation of all regardless of geographical locations by sharing the livestreaming and recording of our events on our YouTube channel to enable those who could not participate in France to view at their own convenience.
Beatriz Herrera Corado and Shan Rann Chuah
Guatemala City and Vancouver, 30th of September, 2022
Edited by Service Provider
---