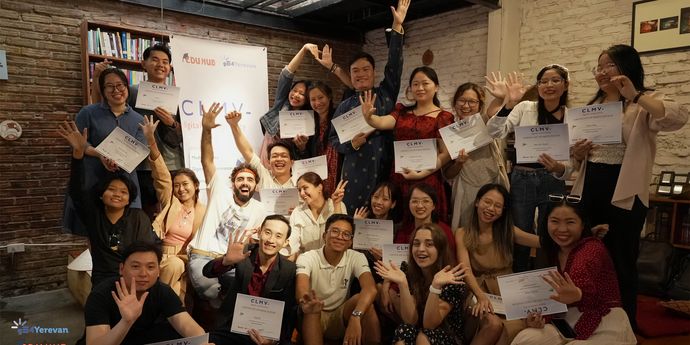 CLMV digital connectivity
CLMV-digital-connectivity is a project consisting of a training series about Media Literacy, Digital Transformation, and the Erasmus+ programme specially designed for CLMV countries (Cambodia, Laos, Myanmar, and Vietnam) and neighbouring countries in the ASEAN region on 4-6 August in Hanoi, Vietnam.
The project was designed and proposed by Gevorg Harutyunyan.
In the 21st century, almost all people benefit from the advantages of digital developments. Young people are considered digital natives since they were born in the digital age and have interacted with digital technologies from early childhood. However, digital and technological developments bring about certain challenges. These challenges can often hinder the professional and personal growth of young people who sometimes struggle to navigate the complexities of the digital landscape. Digital skills, habits, and, more broadly, digital transformation offer young people incredible opportunities. However, to harness this potential, young people living in CLMV countries needed to acquire knowledge in media literacy and digital transformation and learn how to apply them effectively in their studies, work and daily lives.
Erasmus+ programme with its wide range of opportunities was also presented.
The second central issue we addressed was the lack of networking and connectivity between youth in the CLMV countries and the EU's social and educational networks. In fact, we created educational and cultural opportunities for young people who have fewer opportunities living in CLMV countries. Overall, the project provided not only technical skills but also a wide range of soft skills essential for personal growth. During the project, we engaged in various creative activities such as intercultural communication exercises, intellectual games, networking sessions, yoga, meditation and physical activities.
The main partners of the project were garagErasmus foundation, Erasmus Mundus Association, Oceans Network, The Ministry of Education, Science, Culture and Sport of the Republic of Armenia, Made in Armenia social media channel, EURAXESS Regional Coordinator in ASEAN and HitchLine technology company. These partners played important roles in shaping the project's success and ensuring its positive impact across various dimensions. Their contributions were instrumental in achieving our goals and objectives.
Lastly, effective marketing, communication and promotion was an essential aspect of our project, and we have successfully implemented various strategies and materials to reach our goals.
One of the video trailers of the project is already available - https://www.youtube.com/watch?v=1xY-VC1EdUM
Gevorg Harutyunyan
Armenia,Yerevan, 23rd of September 2023
---