Reasons for the Project
A key a barrier to career development and community activism is a lack of concrete training in 'soft skills' which are critical for effective leadership. These skills may only be taught to individuals once they reach leadership or management positions. The aim of this project was to provide high quality online leadership skills training across the ESAA network, regardless of people's positions. This means that network members will be better equipped to reach their career goals, lead teams and support their grassroots projects and community action more effectively.
As well as developing skills, members from across ESN, OCEANS, garagERASMUS and EMA would have the opportunity to learn together and form meaningful networks to support each other in their ongoing leadership journeys.
The Project
We identified a number of key leadership skills which would be important and found a third-party training provider who would be able to deliver a curriculum of workshops. The final programme was 40 hours long (two and a half hours for sixteen weeks) to allow lots of depth and practice of the following topic areas:
An Introduction to Leadership
Personality in Teams
Tools for Change & Growth
Emotionally Intelligent Leadership Styles
Visionary Leadership & Goal Setting
Coaching Leadership
Managing Your Time
Finding Meaning in Life & Leadership
Being a Trustworthy Leader
Adaptive Leadership for Change Management
Managing Stress and Life Balance
Understanding Interpersonal Conflict
Listening Skills for Conflict
Nonviolent Communication
Negotiation Outcomes
Structuring Difficult Conversations & Programme Close
We put out a call for applications across the ESAA network in September 2021. The application process was very popular, so we were allowed to run two different training cohorts at different times in order to improve reach (Mondays 18:00-20:30 UTC and Thursdays 16:00-18:30 UTC). 81 participants were offered places. 53 confirmed their attendance before the programme began. The programme ran from 7th October 2021 – 14th February 2022 and 40 participants completed the programme.
Results and Impact
In order to assess the result of the project all participants were asked to complete a survey before and after the training. This survey measured their self-ratings for a number of leadership skills.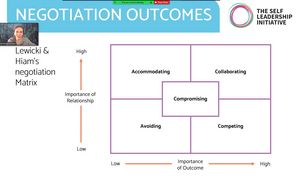 The participants experienced an improvement in all of the sixteen statement areas after the programme. Some improvements were smaller – listening with full attention rose by 3.6% and helping teams to experience change rose by 6.4%. However, some improvements were quite striking with setting a vision for a team improving by 18.2% and identifying their core values increasing by 18.7%. The average improvement across all areas was 12% - this fulfils the objectives of building participant capacity.
We also asked participants to submit feedback about what they would take from the programme, what they found useful and how it would impact them as a leader. Some notable feedback includes:
"The program has helped me to address my challenges as a leader, specifically about- honing effectiveness, managing stakeholders, setting goals for myself and my team, and strengthen team alignment and collaboration." - Md Ashiqur Rahman
"I learned useful skills to manage my own life. I was always struggling with setting priorities, finding time for all things I have to do. Also, I realised that I was dealing with conflicts in the wrong way. Now I feel that the quality of my life will get way better with all the knowledge I've gained." - Anonymous
"When applying to the course I described insecurities in leading groups of people who I feel are in some sense in a higher position than me, for example older, and this making it especially hard for me to step in and take charge in conflict situations. This course has helped me gain confidence in my interaction skills and learn strategies to ensure that difficult situations are handled as neutrally and effectively as possible." - Victoria
"It helped me realize the mistakes I've been making in the past and helped me gain insight into how to make changes in the future." - Ivana Banjac
"I learned to be more emphatic, to listen more, and the models and exercises that we did, helped me solve some of my personal problems/anxieties. In this way, now I understood better the behaviour of each member of my team, and hopefully I will apply all that I learned during these sessions in order to treat my team even better as a leader." - Anonymous
"I learned how to be less stressed about some issues and I found out more about my character and how I can use it in order to make an impact." - Ira Vontitsou
"One of the biggest challenges that I was facing in being a team leader is guiding change and managing stakeholders which is something that I think this programme fixed through the interesting materials that we've learned with and as well as discussing this matter with people that they already faced and overcome these problems." - Rayen Benchaabane
"I will try to apply techniques learnt in various situations at my work, extracurricular activities and even personal life. Before I limited leadership understanding only to the matters related to work, however this training helped me to expand my approach." - Evelina Simanaviciute
Thank you to everyone for participating in the project, sharing your personal journeys and bringing the workshops to life. Thank you also to The Self Leadership Initiative Ltd for providing the training content and learning materials.
Scott Darby, Project Coordinator
02.03.2022
---