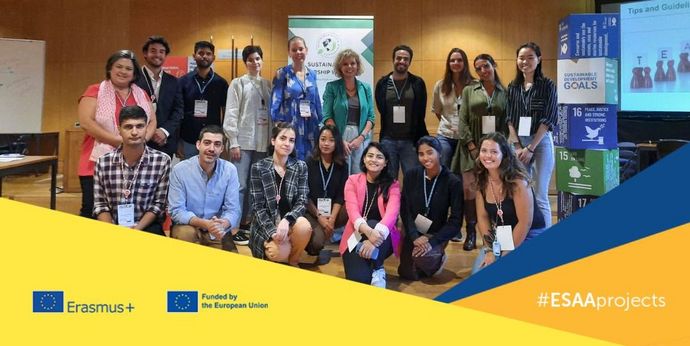 Empowering Future Leaders: Sustainability Leadership Workshop in Tourism
The vibrant city of Lisbon, Portugal, played host to a transformative Sustainability Leadership Workshop in Tourism on September 7th and 8th, 2023. Bringing together a diverse group of 16 promising young leaders from various backgrounds and nationalities, this event served as a beacon for the future of sustainable tourism. Organised by the Erasmus Mundus Association in collaboration with ISCTE Business School, with generous support from ESAA and funding from the European Union, this workshop was a testament to the global commitment to sustainability.
In a world grappling with escalating environmental challenges and a pressing need for sustainable practices, the Sustainability Leadership Workshop aimed at nurturing young leaders and empowering them with the knowledge and skills needed to drive sustainability in the tourism industry. This project endeavoured to bridge the divide between theoretical knowledge and practical application, thereby enhancing the quality of education and promoting collaboration between industry and academia. It successfully achieved its main objective to engage and educate young leaders, fostering a global network of sustainability champions who would lead the way in sustainable tourism practices. The workshop is a resolute response to the pressing global issues tied to sustainability, intending to arm participants with the tools necessary to initiate positive change in their communities and beyond.
In alignment with the European Year of Skills, this year's Sustainability Leadership workshop delves into the vital theme of sustainable tourism practices and leadership. Facilitated by industry expert Dr. Michaela Holz from the Global Sustainable Tourism Council (GSTC), a leading authority in tourism accreditation and certification, this immersive training immerses participants in the essential skills required to navigate the ever-evolving landscape of green and digital sustainability.
A select group of 16 young leaders poised to embark on a transformative journey, where they unlocked their potential to shape a more sustainable world. These participants engaged in an unparalleled experience of personal and academic growth, honing their skills in green innovation, sustainability practices, and digital proficiency within the dynamic landscape of the tourism industry.
As they explore innovative solutions, collaborate with like-minded peers, and challenge conventional wisdom, these participants will emerge from this workshop as leaders primed to spearhead sustainable initiatives within the tourism sector. Their journey is not just a dialogue; it's a catalyst for change, a platform for innovation, and a pathway to a more sustainable future. With their newfound knowledge and a global network of peers, these participants are poised to make a meaningful difference in the world of tourism, steering it towards a greener, more sustainable horizon.
The Sustainability Leadership Workshop stands as a testament to the power of education, collaboration, and leadership in driving sustainable practices. It showcases how a dedicated group of young leaders can emerge as catalysts for change, shaping a more sustainable future for the tourism industry and the world at large. With their passion, knowledge, and global perspective, these participants are ready to lead the way towards a greener and more sustainable tomorrow.

Rashi Maithul
Lisbon, Portugal, 21st of September 2023
---