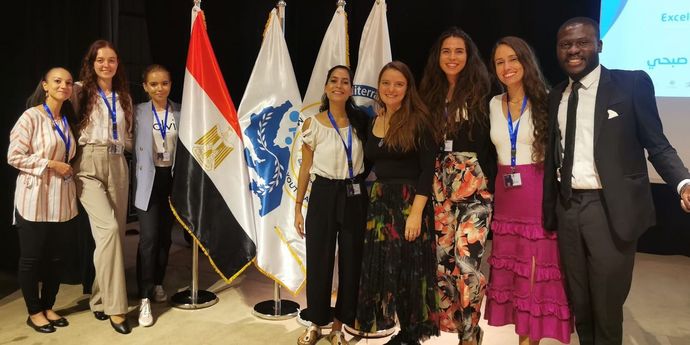 ERASMUS+ Delegation joins the Mediterranean Youth Academy in Egypt
OCEANS Network facilitated a 10-person delegation to join the Mediterranean Youth Academy in Egypt in Alexandria, Egypt on September 15-18, 2022. Consisting of ERASMUS+ students, alumni and partners from OCEANS, EMA, garagErasmus, ESN and CoconutWork, the delegation joined multiple activities and took the opportunity to promote the ERASMUS+ programme.
The academy followed the footsteps of ESAA-funded project Erasmus+ Global Partnerships' "EU-MENA Forum" hosted by OCEANS in Rabat, Morocco in 2020, which brought youth from Europe and MENA to take part in capacity building, project creation and drafting policy recommendations. Likewise, the Mediterranean Youth Academy hosted in 2022 in Alexandria, Egypt offered a platform to promote strategies to face global challenges, whether technological, environmental or climate. It also facilitated exchange of best practices between youth participants and helped build partnerships and cooperation between the Global North and Global South, as well as South-South cooperation.
The academy included a session on ERASMUS+ opportunities in credit and degree mobility, which was hosted by the ESAA Delegation. Dialogue sessions were also hosted with the Head of the European Union Delegation to Egypt, Ambassador Christian Berger and the Egyptian Minister on Youth and Sports Dr. Ashraf Sobhi.
Overall, the Mediterranean Youth Academy focused on five main discussion areas: Irregular migration, Youth empowerment and facilitation of freedom of movement, Climate change, Human rights and gender equality. During the workshop discussions the participants prepared policy recommendations which will be advocated for at the World Youth Forum (December 2022) and the United Nations Climate Change Conference (COP27) hosted by Egypt in Sharm El-Sheik (November 2022).
The Academy was co-hosted and supported by the list of international partners, including Mediterranean Youth Foundation, Egyptian Ministry on Youth and Sports, Delegation of the European Union to Egypt, Anna Lindh Foundation, United Nations Development Programme, the OCEANS Network, Erasmus+ Student and Alumni Association (ESAA) and several other partners.
The OCEANS network and all ERASMUS+ partners are looking forward to continuing inspiring successful EuroMed cooperation projects throughout Europe and the MENA region.
Neringa Tumėnaitė (OCEANS Network)
Cologne, Germany, 29th of September 2022
Edited by Service Provider
---