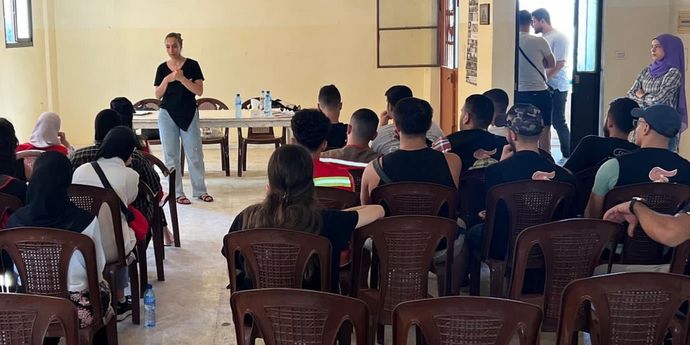 Erasmus For All Project!
Erasmus For All is a youth-led project that advocates for the inclusion of refugee youth in the Erasmus Mundus Joint Masters Degrees funded by the European Commission. This is achieved mainly through a sequence of informative sessions and capacity-building workshops that prepares and increases the chance of acceptance for refugees residing in Lebanon, aspiring to embark on cross-culturally rewarding academic journeys.
We:
Informed refugee youth residing in Lebanon about the different programms available under the European Education and Culture Executive Agency that promotes different Masters programms (Erasmus Mundus Catalogue).
Provided capacity-building workshops on CV writing, interview skills, personal statements.

Along the way, we:
Promoted European higher education and intercultural understanding through cooperation with third-world countries.
Increased the number and quality of educational services provided to refugee youth residing in refugee camps.
Bridged the communication gaps detected among young refugees in regards to the Erasmus Mundus Association as well as the master and internship opportunities offered by it.
Increased the level of awareness about the benefits of the Erasmus Mundus Scholarship programs among youth refugees.
Provided proper capacity building by equipping young refugees with educational and professional skills to become fully eligible for the scholarship programms.
Created a supportive space as well as professional orientation and guidance for youth refugees.
Helped young refugees become active agents of change in research and practice by exchanging much-needed knowledge in a Western-dominated education system.
Increased the number of participants in the Erasmus Mundus Programs in the year 2022-2023.

Things we insured to do:
Served all refugee youth fairly without any judgement or exclusion from the project.
Linked all participants to proper desirable educational opportunities.
Ensured to avoid all forms of discrimination, favouritism, and/or violence that could affect the participants during the implementation process.
Coordinated professionally and authentically with host organisations that are willing to support Erasmus For All Project for the benefit of all its participants.
Social Media
Linkedin: Erasmus For All
Instagram: Erasmus_forall

More information on the sessions
We conducted 5 sessions, 16 people attended in each of the 4 sessions, more than 16 in one of the sessions (in Tripoli, Al Baddawi refugee camp)
written by Manal Makkieh and Rami Rmeileh
edited by the service provider
Beirut, Lebanon, 05.08.2022
---