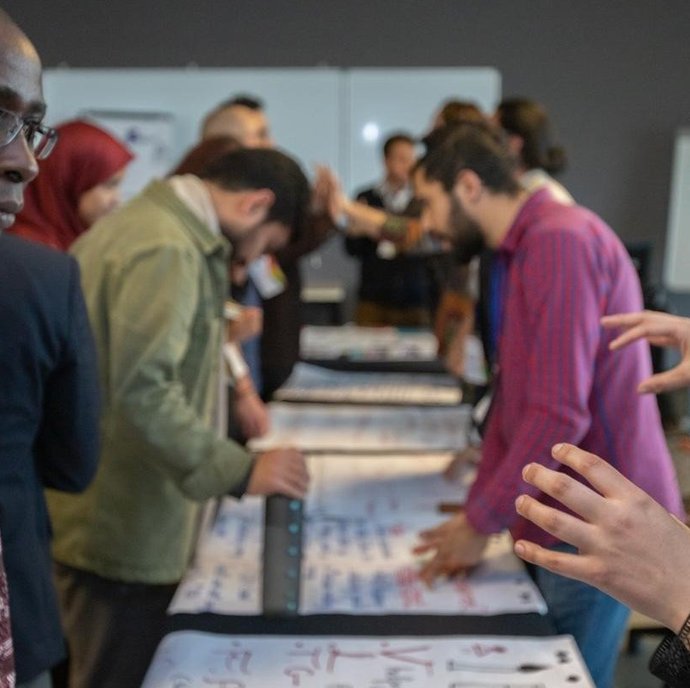 Erasmus Global Partnerships host the MENA Forum "Fostering Global Citizenship Education to Move Beyond Sustainable Development Goals (SDG)"
Erasmus Global Partnerships (EGP) is a project of the Erasmus+ Student and Alumni Alliance (ESAA) implemented by alumni of OCEANS Network. MENA-Forum is an online information and discussion resource for anyone involved in the development of the Middle East and North Africa (MENA) region.
This young-people-empower project aims to contribute to the global agenda of the UN Sustainable Development Goals (SDGs), which range from the fight against poverty to quality education, gender equality and sustainable economies. Building on the idea that the most efficient way to achieve positive change is through Partnerships, Solidarity and Cooperation, EGP has built its activities around the UN SDG 17 - Partnerships for the Goals. Therefore, all activities have included diverse groups of stakeholders — youth activists, entrepreneurs, academics, institutions, and policy makers — to promote intercultural dialogue and knowledge exchange to foster cross-border partnerships for Education, Employability and Peace.
With a successful debut in May 2019, EGP AsiaForum in Bangkok, Thailand brought together 60 representatives from start-ups and civic society organisations from South America, Europe and Asia exchange of ideas and experiential knowledge to develop sustainable grassroots solutions under the theme "Building Youth Partnerships to Advance UN Sustainable Development Goals for Education, Peace and Innovation".
Moving steadily into 2020, the EGP MENAForum was held in February in Rabat, Morocco and focused on "Global Citizenship Education to Move Beyond the SDGs." The forum aimed to facilitate dialogue and knowledge exchange on the role that civic society and local entrepreneurs play in promoting inclusive and sustainable economic growth, and the role that global citizenship education in facilitating knowledge exchange and global youth partnerships across borders. (Background Paper of the Forum is available in English, French and Arabic here)
Digital Dimension: Webinars
The EGP MENA Forum kicked-off with online webinars which included two training sessions for 158 youth leaders from around the world and were moderated by Swati Verma and Sourav Das from Erasmus Global Partnerships (EGP) media team.
"Peace First Challenge" was hostedon 9 February 2020. The webinar focused on project management of social projects and was held in cooperation with partners from Moroccan Centre for Innovation and Social Entrepreneurship (MCISE), represented by Othmane Benhlima and PeaceFirst, represented by Josiane Atallah.
Design Thinking training,hostedon 16 February 2020, was led by Hamza Arsbi, Co-Founder of the social enterprise MindLab in Jordan, who navigated through the different steps of the Design Thinking method and how it can be used to solve global challenges.
Youth Leaders Forum in Morocco
The Erasmus Global Partnerships Forum took place from 29 February until 1 March 2020 at the International University in Rabat, Morocco, and engaged 52 entrepreneurs, policy makers and civic society representatives from MENA and Europe and offered a space for dialogue and knowledge exchange on the role that civic society and local entrepreneurs play in promoting inclusive and sustainable economic growth. Specifically, the Forum aimed to provide capacity building training on Global Citizenship Education, Entrepreneurship and policy-making, and opportunity for networking, exchange knowledge and built inter-disciplinary and cross-border partnerships. Some of the key pieces of the forum included:
Fishbowl discussionon the role of Global Citizenship Education in Building Sustainable, Inclusive & Peaceful Societies, which received input presentations from Mr. Mohammed Loulichki (permanent representative of the Kingdom of Morocco to the United Nations), Khadija Tirha (i-Dove Interfaith Dialogue on Violent Extremism), Youssef Sabia Attia (Mediterranean Youth Foundation) and Zakaria Nidkazza (Education for Employment). The discussion was moderated by Richard Francis Apeh (International Coordination Meeting of Youth Organisations (ICMYO), who navigated the complexities of current global affairs and the role played by global citizenship and international solidarity.
Panel "Youth Policies: What's the status quo?", whichwere moderated by Neringa Tumenaite from EGP and included presentations on policies of the Council of Europe (presented by Natascha Skaalgard, member of the Advisory Council of Youth from the Council of Europe) and African Union, presented by Nicholas Ouma (Senior Youth Advisor, African Union Commission), and practical information on using digital methods to empower youth - by Amany Ben Lakhdar (Erasmus+ Virtual Exchange). Complex discussions about policies were accompanied by non-formal education energizers masterfully delivered by Francesco Pipparelli (Opera Circus).
Human Library, which was hosted by Indre Marsanaite (Lithuanian Human Rights Centre), aimed to challenge stereotypes and prejudices. The Human Library works like a regular library: participants can choose the books they want to read. The main difference is that in the Human Library, books are real people. (if you would like to learn about the method, read here)
Project Innovation Lab, facilitated by Wim Gabriels (Erasmus Students Network) which strengthened participants' capacity to create and deliver interdisciplinary international projects.
Networking Bazaar, facilitated by Aiste Slajute (Eurobug International), which allowed the participants to present their organisations' work, network and find potential partners who work in the same field.
4 Workshops: depending on expertise and area of interest, participants were able to join one of the on-going break-out workshops on: Global Citizenship Education(run by Josiane Atallah, Peace First & Balint Josa, UNITED for Intercultural Action), Social Entrepreneurship(Yassine Bakir, Moroccan Centre for Innovation & Social Entrepreneurship & Boutaina Chabbaki, CEO at Marginol Labs ), Jobs of the Future(Felix Kwabena Donkor, ASAF & Erasmus Mundus Association & Zakaria Nidkazza, Education For Employment), and Media Literacy(run by Mohamed Leghtas, UNESCO & Ibtihal Aloul, Palestinian Activist),which later resulted in policy recommendations that were presented at the Policy Dialogue.
Policy Dialogue with Decision makers
EGP Policy Dialogue was hosted at the Policy Centre for the New South on 2 March, 2020. It engaged European Commission, Union for Mediterranean, African Union Commission and other policy and decision makers from the region in order to discuss the needs of Civic Society Organisations and Entrepreneurs from MENA and Europe. The dialogue aimed to explore how governments and international donors could support them and present Policy Recommendations in the fields of Youth, Entrepreneurship and Education.
The Policy Dialogue started off with a welcome from the Policy Centre for the New South and Co-founders of the Erasmus Global Partnerships - Isabelle Eberz, Neringa Tumenaite and Swati Verma. Subsequently, a high-level panel "Fostering Global Citizenship Education to Move Beyond the SDGs and the African Union Agenda 2063" offered an opportunity to explore existing policies on Youth & International cooperation in the field of Education between Europe and MENA, and what role solidarity and youth empowerment could play in strengthening it. The discussion was moderated by Neringa Tumenaite from Erasmus Global Partnerships, and involved a diverse range of experts - Nicholas Ouma (Senior Youth Advisor, African Union Commission), Dr. Abdelkader El Khissassi (Senior Advisor in Social and Civil Affairs, Union for the Mediterranean), Josiane Atallah (Regional Manager for MENA, Peace First), Youssef Tobi (International Relations Specialist, Policy Centre for the New South) and a digital presence of Germán Bernal Rios (Policy Officer, European Commission).
Young people take the centre stage
Following the panel, youth leaders took the stage to present the policy recommendations they have developed in the fields of Social Entrepreneurship (presented by Zineb Bouaoudate), Jobs of the Future (by Hanane Aqadoh), Global Citizenship Education (by Hamza Alshawa) and Media and Information Literacy (by Marwa Azelmat). The session was moderated by Osama Aljaber from United Nations Development Programme Jordan. Policy aside, young leaders stressed the importance of including young people in policy and decision making and working together to advance the UN sustainable development goals.
After the presentation of the policy recommendations followed by a Q&A-session, the Policy Dialogue was closed officially by Mr. Anass Bennani, Director of Cooperation and Partnership at the Higher Education and Scientific Research Department, Mr. Alessio Cappellani from the EU Delegation to Morocco, Mr. Nicholas Ouma from the African Union Commission, Dr. Abdelkader El Khissassi from Union for Mediterreanean, Dr. Latifa Daadoui from the National Erasmus+ Office Morocco and Ms. Swati Verma and Ms. Isabelle Eberz from Erasmus Global Partnerships.
[You can watch a video from the Forum here]
Special thank you to our partners from the Moroccan Ministry for Education and and Scientific Research, the European Delegation to Morocco, the National Erasmus+ Office Morocco, the International Université de Rabat, the Policy Centre for the New South, Atlas 4 Development, PeaceFirst, Mediterranean Youth Foundation, Erasmus Morocco Network and OCEANS Network. We hope our joint partnerships will pave the way for having increasing numbers of young people at the heart of innovation and policy-making to ensure effective actions for innovation, sustainable development, quality education and solidarity.
You can follow Erasmus Global Partnerships on social media to receive updates:
Facebook: https://www.facebook.com/ErasmusGlobalPartnerships
Instagram: https://www.instagram.com/erasmusglobalpartnerships
Twitter: https://twitter.com/erasmus_global
YouTube: https://www.youtube.com/watch?v=oxL5RDrK0RM
Edited by service provider
---