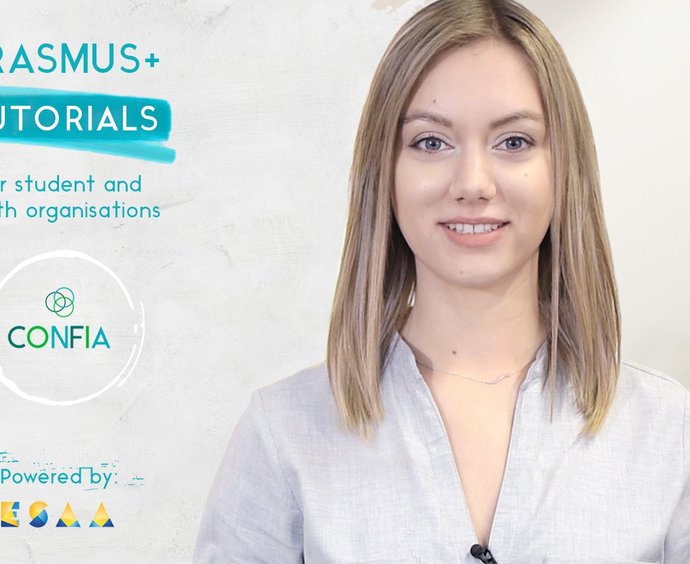 ERASMUS+ Video Tutorials Part 2: Opportunities for Youth and Student NGOs
Brussels, November 2019: Erasmus+ Student and Alumni Alliance (ESAA) and Confia have partnered up again for the creation of three more instructional videos for Erasmus+ student volunteers on understanding Erasmus+ opportunities: Learn about funding opportunities for your organisation and become an Erasmus+ funding expert.
Erasmus+ offers a handful of opportunities to fund projects but student and youth organisations, normally led by volunteers, are often lacking the knowledge or time to deep-dive into and make use of these opportunities. After the success of the first round of videos "Erasmus+ funding for Student and Youth NGOs", where we focused mostly on Erasmus+ KA1, we decided to create another round of quality videos, passing on our knowledge acquired through volunteering and carrying out numerous Erasmus+ projects to other student volunteers and youth activists. This time we decided to focus onErasmus+ KA2 Strategic Partnerships, a very important scheme for NGOs because it allows developing bigger and more impactful projects, as well as hiring skilled staff, which in turn supports the professionalisation of NGOs. There are three videos in total, each tackling a specific topic. The first one offers an introduction to the funding scheme and gives insight into preparing an application. The second video discusses project management and offers very concrete tips coming from several years of experience - student volunteer to student volunteer. The third video clarifies the sometimes complex (at first sight) terminology used in Erasmus+.
With these videos, we aim at supporting student volunteers and youth activists in applying for funding for their most ambitious project ideas, receiving the funding and implementing their dream projects! Several campaigns will be organised in the coming months and years in order to continuously encourage the development of youth-led projects. Youth volunteers are innovative, passionate, and motivated and we believe that with the right support and knowledge they can truly bring about meaningful positive impact to our societies.
The content for the videos was created by Dominique Montagnese and Tijana Stojanovic, two former Vice-Presidents of the Erasmus Student Network (ESN) International, a partner organisation of the Erasmus+ Student and Alumni Alliance (ESAA), who have a broad experience and knowledge on handling Erasmus+ funding for Youth and student NGOs. The videos were created with the support of a professional team of video makers: Styliani Damigou, Katerina Mexi and Giorgos Delimitrou.
Edited by Service Provider
For further information see:
---