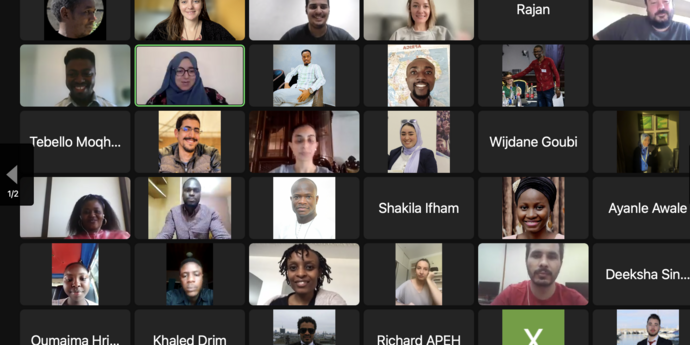 Erasmus+ Worldwide: Global Dialogue on Youth Participation & Peace
Following the adoption of the UN Security Council Resolution 2250 and the Youth, Peace and Security Agenda, heavily advocated for by many youth-led organisations, there has been a political momentum to mainstream youth participation in the policy and decision making.This projects initiative focuses on cooperation in the field of Youth between Europe, Asia and Africa.
Young people are a key demographic in ensuring lasting and sustainable peace and in the effort to meet the goals of 2030 agenda for sustainable development. Several National and International resolutions notably the UNSC Resolution 2250 have acknowledged the important and indispensable role that young people play in ensuring sustainable peace and development. Despite these recognitions and the mantra of the UN SDG goal to "leave no one behind", young people still face multiple discriminations and challenges when it comes to realising their initiatives. They are often forgotten, underrepresented in decision making tables and programmes concerning them are under budgeted and underfunded.
It is important that the needs and opinions of young people are reflected in development policies and implementation processes for when these happen, policies and initiatives are more effective and sustainable.
The "Global Dialogue on Youth Participation and Peace" was joined by over 60 youth activists and NGO representatives from Africa, Asia and Europe to embarked on a journey of capacity building, and worked on policy recommendations in the the following thematic areas:
"YOUTH EMPOWERMENT — EMPTY WORDS OR A LIVING STRATEGY? EXPLORING YOUTH PARTICIPATION IN LOCAL AND INTERNATIONAL GOVERNANCE"

"YOUTH MOVEMENTS & DECOLONISING CLIMATE JUSTICE"

"YOUTH ACCESS TO FUNDING"
A separate session on "EU-SUPPORTED STUDENT & ALUMNI NETWORKS" was co-hosted by Erasmus+ student and Alumni Networks: OCEANS, ASAF, EMA and WBAA. The members discussed the strategy to empower alumni as Erasmus+ ambassadors could be further strengthened through increased and improved cooperation with the European Commission, the European Education and Culture Executive Agency, the Service Provider and the EU Delegations around the world. Several recommendations have been identified, including hosting more joint meetings and including a wider range of stakeholders in the consultations.
We thank Erasmus+ Student and Alumni Alliance (ESAA) for the support in implementing the initiative.
Learn more about the project and ways to get involved: www.globalyouth.eu
Neringa Tumėnaitė, Project Coordinator (OCEANS Network)
Richard Francis Apeh (Trainer)
Cologne, Germany, 28th of September 2022
Edited by Service Provider
---