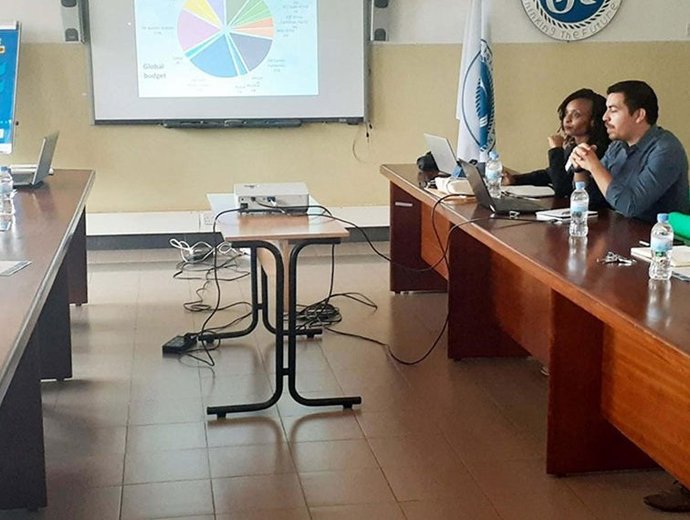 ESAA Alumni promoting Erasmus+ opportunities in Rwanda
The ESAA-project "ERASMUS+ in East Africa: Raising Awareness in Rwanda and Burundi" gathered a total of 550 local students and 45 Higher Education Institution staff members at three different university campuses in Kigali and Musanze (Rwanda) in the frame of five Erasmus+ promotional sessions in February 2020.
During the week of the 24th -28th of February in 2020, Erasmus+ alumni held five Erasmus+ information sessions at three different public and private universities in Rwanda. Two sessions were for students, while the remaining were for staff of Higher Education Institutions (HEI). In total, the sessions were attended by about 550 local students as well as 45 HEI staff members.
Each of the sessions lasted about two to three hours covering the following topics:
Introduction to Erasmus+
Erasmus Mundus Joint Master's Degrees (EMJMDs)
Erasmus+ International Credit Mobility (ICM)
Intra-Africa Academic Mobility Scheme (IAAMS)
EURAXESS & Marie Skłodowská-Curie Actions (MSCA)
Tips & Tricks for submitting a strong application (for students)
Tips & Tricks for establishing Erasmus+ partnerships and submitting a strong application (for HEIs)
Q&A sessions
The HEIs visited were: the Institut d'Enseignement Supérieur de Ruhengeri (INES-Ruhengeri), University of Kigali (Kigali campus), the University of Rwanda (Kigali campus). In addition, students of the University of Kigali (Musanze campus) participated in the session at INES-Ruhengeri.
The project was organised by the Erasmus+ Student and Alumni Alliance (ESAA) and its partner organisations Erasmus Mundus Students and Alumni Association (EMA) and Erasmus Student Network (ESN) and counted on the support of the Delegation of the European Union to the Republic of Rwanda.
Edited by Service Provider
---