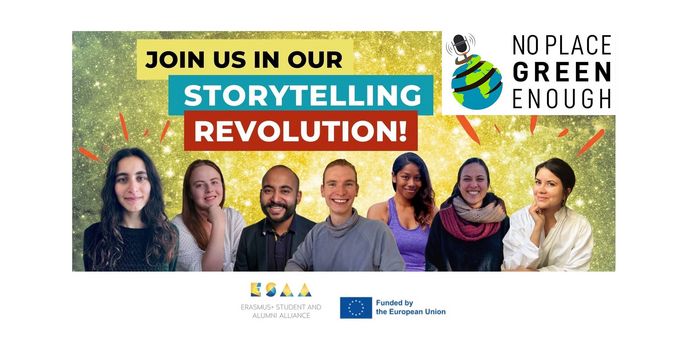 ESAA Project: "No Place Green Enough" Podcast
"No Place Green Enough" Podcast - Entertainment or education? Listen and decide for yourself! If movies like "Don't Look Up" and "Dune" made you think about the world and its systems, "No Place Green Enough" will weave the same thoughts, in the form of a podcast!
Let's face the facts
The road to achieving the UN's Sustainable Development Goals (SDGs) by 2030 is unattainable based on current trajectories, with reports of global biodiversity plunging at unprecedented rates in human history. No Place Green Enough (NPGE) Podcast recognises the lapses in communication of critical issues to and between individuals, local communities, and their governing bodies, often limiting their actions in climate,health, gender and humanitarian crises.
The eco-fiction podcast aims to tackle this problem with a systemic approach. Through fictional storytelling of real-life incidents, it will shed light on these issues in a digestible manner while providing potential solutions and calls-to-action towards the end of each podcast episode where the listeners are empowered to actively participate and be a changemaker themselves.
Episodes so far
We have released episodes covering the effects of consumer-level food waste on climate change (set in Belgium), dolphin bycatch in the Bay of Biscay (France/Spain), excessive academia and research-related travel, deforestation of the Amazon rainforest for mass food production and are accessible on major podcast platforms.
The project's impact is limited only by the outreach and production abilities, as each episode will spark awareness, conversation and stimulate action in the country its story is occurring in. So go ahead, tune in at podcast.noplacegreenenough.com!
Behind the Scenes
Every episode release kicks off with a call for a critical subject matter; an expert on the topic contributes research material complete with statistics, case studies, potential solutions and names of organisations already committed to applying solutions. We already have more than 5 partners who are willing to engage with us in different ways!
A creative writer then processes this information, creating potential storylines based on the regions, stakeholders and case studies provided. Documents and processes (with script-writing freeware) are prepared to aid this process. Writers pitch storyline ideas to the team to chart the most effective, balanced and impactful direction for his/her story. The writer then creates the script.
Upon script completion, voice actors with relevant characteristics are scouted, auditioned and assigned lines for recording. A Voice Recording Guide document is available to aid the voice actors, who record at home. Album art is also created at this point by an artist. Once voice recordings are ready, the audio editing process kicks in by lining up the VAs' dialogues with sound effects and music.
Posts are uploaded on a podcast hosting platform and announced on social media with the intention to build up interest and support the release of the episodes, along with information on solutions to the topics addressed and our philosophy on storytelling for science and humanitarian communication. Feedback is also regularly requested from our audiences.
Periodically, workshops are conducted to spread the usefulness and versatility of storytelling and effective communication to facilitate knowledge and support much-needed action in implementing sustainable lifestyles, environmental protection, and progressive change in humanitarian injustice.
A Little History
This project was in the works since 2020. It was collectively started up by one Erasmus Mundus and one EIT Climate-KIC alumnus. It currently has as many as 6 Erasmus Mundus alumni from the IMBRSea programme associated with it in a high capacity. The current team consists of researchers, scientists, and artists from academic backgrounds in marine biology, global health, clinical research, climate and sustainability.
Through consultations with EMA's and ESAA's diverse community members, novel ideas are being brought to life in the project's stories, enabling listeners to visualise and be perceptive to their applications in the real world. Additionally, the community is inspired to embrace arts and humanities in their approach to implementing evidence-based systemic change. As this project is open for contribution and collaboration, it has been creating opportunities for members and boosting their professional portfolio.
This project is in line with ESAA's goals of bringing EU-funded exchange students together to develop their academic and professional skill set. Furthermore, as experimentation is a key factor in the wider ESAA community, experts from various STEAM backgrounds are invited to collaborate to create tools and/or experiences that can facilitate the collective change we need in society. This project is exactly that – an experiment that will bring these elements together. And we hope to see that change materialise with our work.

Follow us on LinkedIn at https://www.linkedin.com/company/noplacegreenenough/
Instagram: https://www.instagram.com/noplacegreenenough/
Twitter: https://twitter.com/NPGEpodcast
Website: https://podcast.noplacegreenenough.com/
Text by Thiviya Nair (Project Coordinator) and Soham Datta (Strategy and Copywriter)
06.01.2022
---