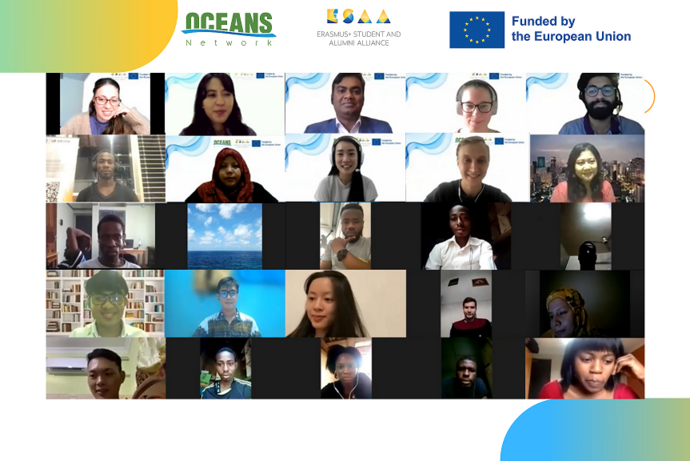 ESAA Project: Spreading Erasmus+ in Lockdown
A webinar series was organized by OCEANS network members to promote Erasmus+ around Erasmus Day 2021 to reach out to possible future Erasmus+ students. During the webinars we covered Erasmus+ Scholarship opportunities, motivational letter writing tips and tricks and the alumni and student originations of ESAA.
Reasons for the Project
As 2020 and 2021 were unusual years due to COVID-19, the promotion of Erasmus+ and OCEANS Network were not possible in the form of on-sight events.Many higher education institutes are holding lectures online and transforming to a fully digital experience, while students may lack knowledge on Erasmus+, on topics that were previously visible and available to them on the corridors of the universities, on student festivals and on international events.
The Project
Uswa Alhamid and Anna Stief from OCEANS Network organized a webinar series with an extensive social media campaign targeting future students and alumni to increase awareness of the Erasmus+ programme around Erasmus Day 2021. The project was implemented with the goal of spreading the word and information about the Erasmus+ programme to widen awareness and participation in the programme. The digital format of the event allowed 150 perspective Erasmus+ students to join the webinars from Europe, Africa, America, and Asia.
Content of the Webinars
The first webinar in the series covered in detail the current Erasmus+ Scholarship opportunities both for partner and programme country students presented by Uswa Alhamid and Anna Stief on topics such as the benefits of the Erasmus+ programme, its scholarship categories available for partner and programme country students, the application procedure, criteria and important deadlines.
The second webinar was held by Bella Indah Sanusi, who is a Business advisor in APAC Hongkong, and Ivan Kobelev as a facilitator who has experiences as a trainer for youth activity. They presented the important part of motivational letters and also gave practical tips and tricks on the fine details how to make a good motivational letter into a great one.
Additional Positive Effects
The organization and implementation of the webinars also increased international cooperation between the four ESAA organizations, as representatives of OCEANS Network, Erasmus Mundus Association, garagErasmus, and Erasmus Student Network joined in for the last webinar in the series to describe their activities, membership criteria and opportunities for future and current Erasmus+ students.
Text by Anna Stief and Uswa Alhamid (Project Coordinator),
editing by service provider
06.01.2022
---