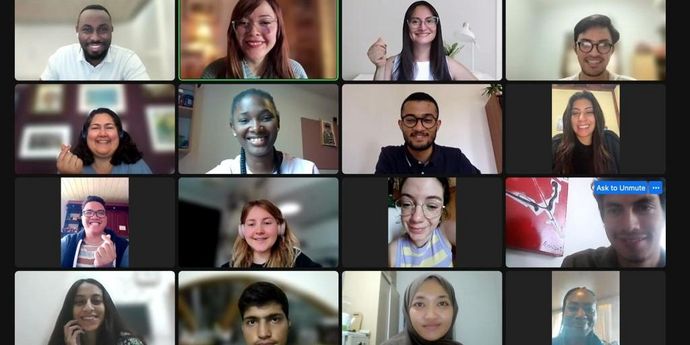 Mindful Mundus: Empowering Erasmus Mundus Students' Wellbeing
Mindful Mundus is a six-week groundbreaking initiative dedicated to supporting the mental health and intercultural competence of Erasmus Mundus students. It was developed and delivered by the Erasmus Mundus Student & Alumni Association (EMA) in collaboration with the Global Minds Association (GMA), with the support of ESAA and funding from the European Union. Mindful Mundus Experts facilitated webinars, workshops, and small group discussions online from September 4th to October 14th and reached close to a hundred participants.
This project is an innovative initiative designed to provide comprehensive mental health support and foster intercultural competence among the diverse Erasmus Mundus student body. The project is rooted in the understanding that mental wellbeing and cultural adaptation are crucial for academic performance and personal growth. Mindful Mundus aims to improve the mental health of students of Erasmus Mundus Joint Master Programmes (EMJM), empowering them to find effective strategies, resources, and tools to build resilience and support their mental health throughout their time as EMJM scholars and beyond.
The various calls for participants began on June 28th and resulted in hundreds of applications from the EMA community and beyond. The successful recruitment campaign derived in an incredible team of 18 Fellows, 5 Experts, and close to a hundred Ambassadors. Our Mindful Mundus Fellows were volunteers in four areas: Outreach & Recruitment, Marketing & Communications, Logistics, and Data Analysis. Around twenty exceptional Erasmus Mundus alumni aspired to be Mindful Mundus Experts. The process of selecting the final five mental health experts presented challenges but was, ultimately, an inspirational process for the Outreach Fellows. The expertise and commitment of the selected experts was instrumental in creating and delivering transformative sessions. ​More than 130 passionate individuals applied to be Mindful Mundus Ambassadors. We use the term Ambassador for our participants because they will be instrumental in spreading mental health awareness and cultural competences across their EMJMs and the Erasmus Mundus community. You can follow their journey via our project's page on LinkedIn.
The project had several specific objectives:
Provide Erasmus Mundus students with webinars, workshops, and support groups focusing on mental health and intercultural competence.
Offer capacity-building and professional development opportunities to alumni with expertise in diversity, inclusion, intercultural knowledge, and mental health.
Increase awareness and understanding of mental health issues among Erasmus Mundus Master students.
Create an inclusive and supportive community that encourages dialogue on mental health.
Develop accessible online resources for the entire Erasmus Mundus community.
The Mindful Mundus programme was designed based on a needs assessment survey of participants. The Mindful Mundus Experts developed the content for their webinars, workshops, and supporting materials on themes and topics mentioned in the survey report. They went from the individual to the social and relational:
Week 1: Managing Anxiety, Stress, and Productivity
Week 2: Self-awareness and Personal Growth
Week 3: Intercultural Competence
Week 4: Cultural Adaptation
Week 5: Building Positive Relationships
It is possible to watch the webinars and access supporting materials on the Mindful Mundus project page https://www.em-a.eu/mindful-mundus
More than 80% of the participants of the project are students of cohort 2022-2024 while the remaining are from the 2023-2025 cohort. The table below illustrates the improvement Ambassadors experienced after participating in the programme with
| | | | |
| --- | --- | --- | --- |
| Topics | Average Pre-Survey | Average Post-Survey | Percentage Improvement |
| Managing Anxiety, Stress & Productivity | 3.28 | 4.16 | 26.82% |
| Self-Awareness & Personal Growth | 3.4 | 4.0 | 17.64% |
| Cultural Adaptation | 3.24 | 3.96 | 22.15% |
| Intercultural Competence | 4.36 | 4.58 | 5.20% |
| Building Positive Relationships | 3.88 | 4.2 | 8.24% |
The post programme questionnaire contained qualitative questions to establish what participants gained from the programme and what wider impact they felt the programme had on them. These are the major takeaway from the Mindful Mundus Programme:
Several participants highlighted that they feel they are not alone and that there are other people with whom they can relate to who feel the same way when it comes to their feelings, emotions, and personal life experiences.
Feedback frequently mentioned enhanced self-awareness regarding mental health and general well-being.
Providing support to each other and enhancing one's sensitivity towards individual and cultural differences was also highlighted.
They referred to the fact that after attending the workshops, they felt better equipped to cope with the challenges of constant mobility, cultural adaptation, and the daily life of an Erasmus Mundus scholar.
Participants mentioned that they were willing to seek help and talk about mental health.
Social Impact
Mindful Mundus is not just a project, it is a movement to increase mental health awareness and foster a more supportive, inclusive, and mindful Erasmus Mundus community. Our Mindful Mundus Ambassadors represented 61 different Erasmus Mundus programmes, and now serve as beacons of positive change, inspiring others through their commitment to personal growth and community wellbeing. The ripple effects of this project will extend beyond individual participants, fostering a culture of mindfulness, respect, and understanding within the Erasmus Mundus community and beyond.
Raquel Galeano
Scotland, Glasgow, 10th of October 2023
---