Here you go! We are really enthusiastic to share with you the selected projects of the 3rd Call ESAA Project Ideas 2022.
The selection process involved the ESAA Liaison Group, the Service Provider, and the European Education and Culture Executive Agency (EACEA), In the next phase the project coordinators will present the description, the price schedule and the timeline plan for their projects, which will be commented together with the Service Provider. This process is planned to last around six weeks, in which the EACEA will give their final approval for the projects.
Here is the list of selected projects.
CLMV-digital-connectivity
Community Leader Global Dialogue
Leave a Mark – A Social Inclusion initiative
ATLAS for Self-Funding EMJMD
Developing Excellence in Leadership
Mind the Youth, Mind the Competence
Sustainability Leadership Workshop
ImpROvements: Human Rights Education
Sportcom Intercultural Exchange
Erasmus Alumni Leading the Future of Change
We want to use this opportunity to thank all submitters of projects in the 3rd call 2022. We wish them a very productive implementation phase filled with good experiences!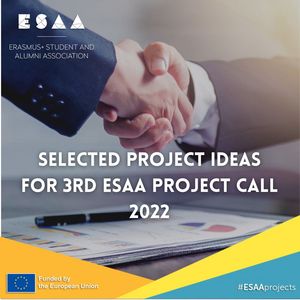 Uswa Alhamid
Indonesia, Jakarta, 20 March 2023
edited by the Service Provider
---