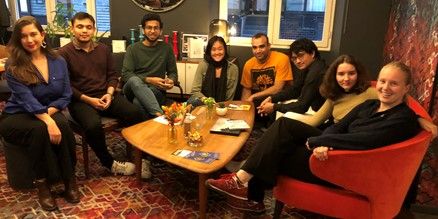 Students' Erasmus Experiences During the COVID Pandemic (SEEDCO)
Erasmus exchanges, international travel, and a global pandemic: what could possibly go wrong? In a three-part interview documentary, students, faculty, and staff members from various graduate programs throughout Europe share their thoughts and sentiments about their Erasmus experiences during the COVID pandemic.
The COVID pandemic has upended and impacted many facets of the global community – including postgraduate education. Because of health, travel and safety restrictions, many Erasmus programs needed to provide education in an online and/or hybrid format, while students from Europe and abroad faced significant hurdles in their studies, especially Erasmus exchange students.
This three-part interview documentary explores the perspectives of students, faculty, and staff members of various university programs in Europe. From the social, psychological wellbeing, and pedagogical points of view, it explores how the pandemic affected their experiences and how the Erasmus experience could be improved in light of the ongoing pandemic.
The Project
A team of students travelled to Italy, France, Austria, Germany and Norway to interview close to fifty individuals, which included 36 students, seven faculty, some of whom were program directors, and six Erasmus program managers and/or coordinators. The video interviews, which were done both in person and virtually, were analysed, edited, and compiled to create a three part interview series that details their experiences.
The Interviews
Students describe the difficulties of pursuing education under pandemic-related restrictions, many of them having to follow online-only classes through recorded or live-stream videos for a prolonged period. Not only was it harder for them to learn and follow course work, but the social isolation and travel restrictions negatively impacted mental health and wellbeing too.
Professors and faculty members likewise share their thoughts and sentiments, relaying that the limitations of online and hybrid learning are significant enough to negatively affect the educational experience, despite all the efforts of faculty and staff to encourage live discussions and interaction among students.
Furthermore, Erasmus program staff coordinators detail how the logistics of travel restrictions have made it doubly difficult for international students to have a meaningful Erasmus experience. Some students have had to follow entire semesters online from their respective home countries, due to health entry restrictions.
Erasmus Programs Impact
During the interviews, improving the educational quality of Erasmus programs was a major highlight. Students, faculty, and staff alike were asked to provide feedback on how educational programs can be improved, from a pedagogical, social, and mental health perspective. One common theme was the need to ensure the provision of more face-to-face opportunities, with safety precautions, to counteract the negative effects of prolonged online learning.
The Future of Education After COVID
As travel and in-person gathering restrictions continue to ease throughout Europe, students and faculty share their optimism regarding the future of education. Despite the challenges, many have shared that they have no regrets pursuing higher education in Europe even during the pandemic. The past couple of years have made Erasmus programs reflect and consider the many ways in which educational delivery and student experience can be improved.
Jef Sala
01 March 2022
Please watch:
A Paradigm Shift for Pedagogy in Higher Education
Social Life of Erasmus Students in a Pandemic
Student Mental Health and Well Being: A Necessity, Not an Option
---