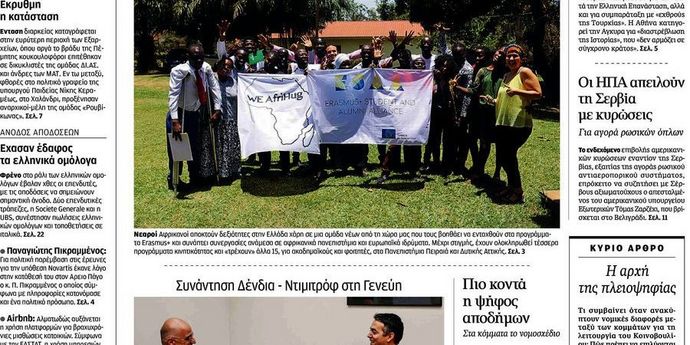 The WE AfriHug Project: Published article in Greek newspaper "KATHIMERINI"
The most famous Greek newspaper "KATHIMERINI" published an article on the WE AfriHug Project 2019 first page on a Saturday morning – a big achievement we can celebrate! WE AfriHug is an educational project being implemented in Africa every year since 2018, with a different edition. According to Nelson Mandela, "Education is the most powerful weapon which you can use to change the world".
The success of WE AfriHug is thanks to all the support and engagement during the project. In the article, you can read the testimonials of our beneficiaries from Kenya and Uganda. You can read the whole article here (it is in Greek but technology will do the job):
https://www.kathimerini.gr/1050985/gallery/epikairothta/ellada/afrikanoi-foithtes-katartizontai-sthn-ellada
As plenty of Erasmus+ mobilities for Training Staff and Students are planned for 2019-2020 from Kenya, Ghana, Tanzania & Uganda to Greece thanks to WE AfriHug 2018 and 2019, we are preparing for WE AfriHug 2020 in Togo, Benin, Nigeria, Cameroon and Chad...stay tuned!
November 25th, 2019
---