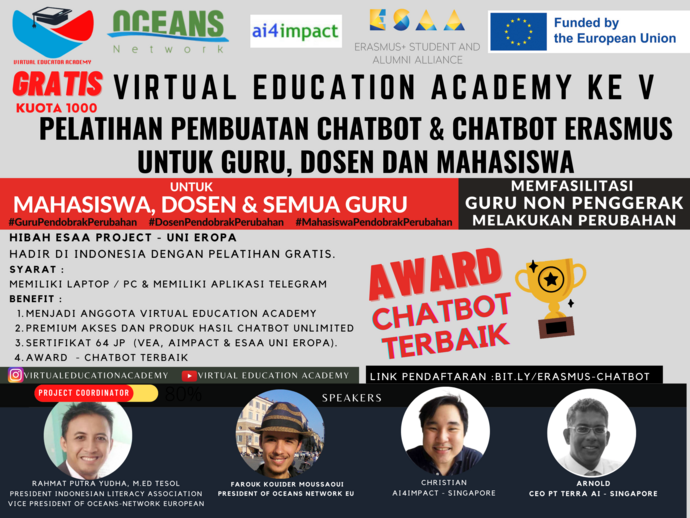 Training for educators and students on creating chatbots for education
This training took place from 12 - 29 September 2022 and was held for for teachers and students to teach them how to build chatbots for learning purposes and chatbots about Erasmus. In this programme 107 chatbots were produced by the participants.
The contribution for ESAA can be seen that alumnus of Erasmus in Indonesia have had a social impact for the country. Similarly, the ESAA mission focuses on professional development and networking of the alumni. This event helped Alumni to be partner with the government. So we can be recognized as a professional and expert in digitalisation of education and academic writing.
The Mentors who evaluate the Chatbot about Erasmus are from the Oceans Network alumni organisation.
Farouk, Yudha and Dina are Member of Oceans network who gave an input of the chatbot and as the result, the chatbot can be useful for people who need to know more about Erasmus and Europe.
Purpose
The purpose of this event is as follows:
Motivating participants regarding the importance of chatbot technology (Artificial Intelligent) for the advancement of education in Indonesia.
Explaining the importance of roles as Teachers, Students, Students and Scholars in assisting governments to advance Indonesian Education.
Train digitally proficient teachers and improve teachers' digital literacy.
Determine the best chatbots and training award recipients
Media Activities
The media used in this activity are StreamYard & YouTube and Zoom.
Results
107 chatbots have been produced and published publicly.
There are chatbots for education purposes. Both learning chatbot and Erasmus chatbot were created.
The chatbot can be used for the public. Both teachers and Students who prepare to study in Europe by applying for scholarship may use these chatbots, as example.
The example result of the chatbot which were created by the participants can be seen in the following links:
https://app.smojo.org/izzkinoy18/SCHAB - (European Scholarship)
https://app.smojo.org/nuril1977/Miss
https://app.smojo.org/syarifah/Chemy
https://app.smojo.org/lindagustini74/E-Boy
https://app.smojo.org/wahyuqm/Yuqi
https://app.smojo.org/budisuaksono71/BudiSulaksono
Rahmat Putra Yudha
Indonesia, 7th of October 2022
Edited by Service Provider
---