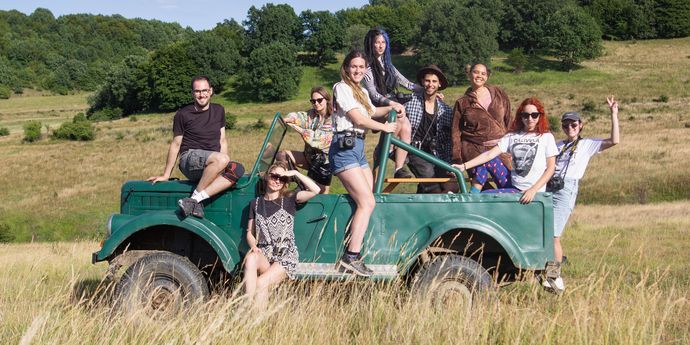 Using Photography as a tool
What better tool to use than Photography to bring people of different cultures together and to build better relationships with our neighbours. This was the concept behind the Erasmus Photography and Photovoice workshops that took place in Cund, Romania on the 14-19 July 2022.
"There is one thing the photograph must contain, the humanity of the moment."
Robert Frank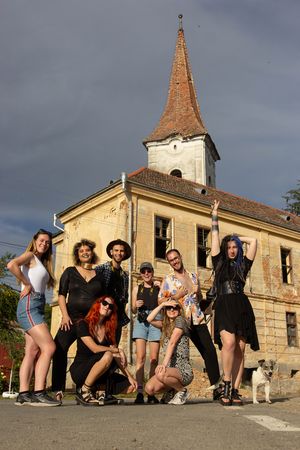 We would like to thank the Erasmus Students and alumni association (ESAA) for offering us this amazing opportunity to experience and share this wonderful Erasmus photography workshop in order to foster intercultural dialogue and to build bridges between cultures. It is initiatives like these that has the potential to bring change to the world and we cannot thank ESAA enough for supporting us in this initiative.
Photography as a cultural lens allows us to capture moments and realities and as a reflexive tool can open dialogue and discussion which can allow us to learn valuable knowledge. In the Erasmus photovoice workshops this knowledge was linked to how we can use photography as a social and reflective commentary to build better bridges with our neighbours. Within the photovoice paradigm we discussed socio-cultural and political issues which facilitated important discussion as to how to build better relationships with our neighbours which is more relevant than ever in this age we are living. The Erasmus photography workshop was attended by 6 participants from both Eastern and Western Europe such as Slovakia, Hungary, Slovenia and Spain. The facilitators were from South Africa, Spain, and Poland coupled by the fact that we were in the Eastern European country of Romania for a very intercontinental and intercultural exchange photography workshop. It was hosted at the Valea Verde Retreat in Romania.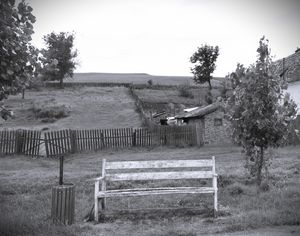 Introduction to the photography workshops
On the first day of the workshop, our photography expert Patricia Serraclavel introduced the basic concepts of photography to the participants such as the rule of thirds, vanishing points, decisive moments, points of views, patterns and rhythms and other important concepts. Participants were then tasked with an assignment to capture photographs with the techniques discussed in the workshop which was later presented by the photographers who received valuable feedback from the photography expert. This was followed by an introduction to Photovoice workshops by expert Tarynne Swarts from South Africa who discussed the objectives of photovoice. Photovoice is a visual participatory research methodology that allows individuals to tell a story through photographs. The main aim is to reflect on the needs of a community and to come to a collective decision as to how to improve certain issues that face the particular community. In the instance of the Erasmus workshop, we looked at Erasmus students from Eastern and Western Europe to identify the needs of their community in trying to bridge cultures with their neighbours. In an age of Covid 19 pandemic, the war in Ukraine and various socio-political issues in Europe there still remains a necessity as to how to bridge socio-cultural and a nationalistic divide and build better bridges with their neighbours. And photography is the binding agent and vehicle through which these open discussions were enabled. We also looked at the importance of ethics when it comes to photographs and being cognizant when it comes to respecting the humanity and dignity of a person or community being captured.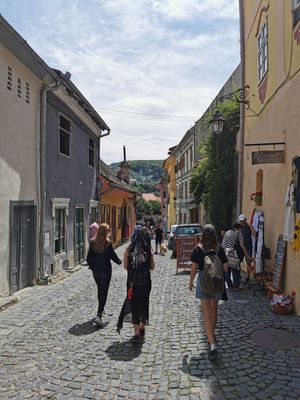 Sighisoara Street photography trip
On day two, prior to the trip to Sighisoara our photography expert Patricia Serraclavel presented a workshop on street photography and some elements to keep in mind when taking street photography. We then took a day trip to UNESCO world heritage site, Sighisoara where participants were tasked with street photography and to employ the techniques they were taught during the workshop. The colourful and quaint nature of Sighisoara made for an ideal blank canvas to capture beautiful moments. One such moment is captured below by participant Nusa from Slovenia and the idea of loving thy neighbours.
"Street photography is a snapshot of urban life observed in its daily facet that includes all its aspects; irony, tragedy, unpredictability, cruelty, beauty"
On Day 3 of the workshops there was a focus on portrait photography and the participants were tasked with taking portraits of one of their colleagues and also to take a self-portrait of themselves of which the creativity was commendable.
"The portrait offers the immortality, transcendence and reaffirmation of power and empowerment of a human being that goes directly connected with the identity of a person"
Photovoice Round Table-Building Bridges between cultures
On day three of the Erasmus workshops an important photovoice round table was created with the objective of learning about each other's culture, building bridges between cultures by observing, narrating and sharing challenges that each country is facing in the wake of the Covid 19 pandemic and the current war in Ukraine. Many topics related to divided nations, and relationships with neighbours came to the fore. With these difficult challenges in the world today it is now more important than ever to have open conversations to understand each other's points of views.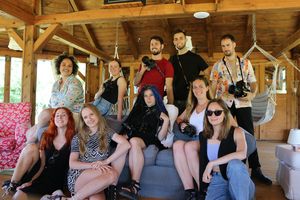 International cultural evening
As part of learning about one another's cultures we hosted an international evening where all the photography participants, each brought food and alcohol from their country and shared with us the traditions behind the social aspect of sharing food. We tried everything from Palinka (Hungarian drink) to biltong and rooibos tea from South Africa, and jamon de serrano from Spain. Besides photography being a cultural lens and a language everyone understands, so too is food and music. A performance of Qonqothwane also known as the click song was performed by musician Tarynne Swarts "Pachamama" performed on Kalimba and voice which resonated with the spirit of the evening of bringing cultures together and learning from different cultures.
Romanian Safari
Now we all know that nothing can beat an African safari, but the Romania safari definitely was memorable. Though we did not see any animals, the experience of going on the safari truck and trailing through the hilly green valleys of Romania offered a unique bonding experience with the participants and being one with nature.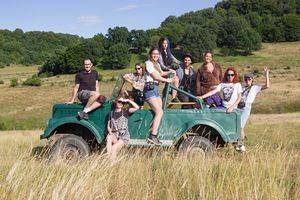 Quotes from our participants
"I've never realised before how important it is to have narrative for photography. Sharing our photos and their story through photovoice was a nice exercise, and listening to stories of others was super informative. Same goes for the sharing of cultural backgrounds."
"I really liked the photovoice workshops because I felt like they gave me another aspect of photography that I maybe don't think about that often because I'm usually mostly thinking about the technical aspects. It broadened my horizons through making me realise how important photography can be, not just in giving voice to the people that can't usually be heard because they belong in the vulnerable communities that are often overlooked by the society but also in how photography can reach and influence policy makers which can make the life situations of these communities better."

"Everything was so nice, the venue was amazing, the managers were so cool and friendly and the vibe between the participants was so nice."
19 August 2022
Tarynne Swarts
---