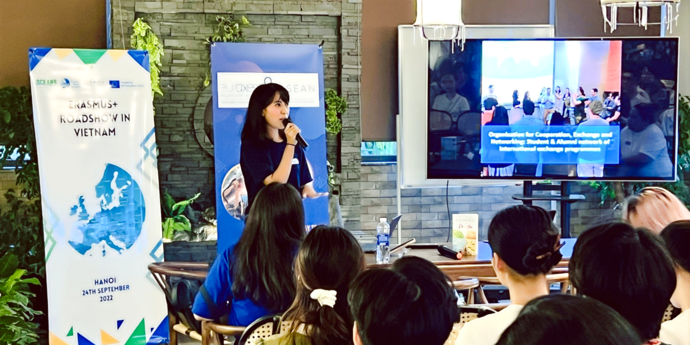 Youth to Youth (Y2Y) Erasmus Mentorship
This time, Erasmus+ event took place in two countries, Vietnam and Indonesia during September 2022 with the theme of Youth-to-Youth Erasmus Mentorship. This project was collaboration between OCEANS Network, Erasmus Mundus Association (EMA) in Viet Nam and Indonesia under ESAA Scheme, supporting by European Union Delegation in Viet Nam and Indonesia, EURAXESS, Polytechnics Negeri Bali. It was happy to share that we reached more than 100 participants joined this event.
"Tell me and I forget, teach me and I may remember, involve me and I learn." -Benjamin Franklin
This quote always reminds us of the idea of mentorship is not about teaching but involvement. This is what we implemented in our project. As this project aims mainly to contribute to 2nd cluster to increase knowledge of the Erasmus+ programme and international cooperation, we did collaboration project between OCEANS Network and Erasmus Mundus Association in two countries, Vietnam and Indonesia supporting by European Union Delegation in Viet Nam and Indonesia, EURAXESS and University.
The first event was held in Hanoi, Vietnam on 24 September 2022 targeted public participant through social media where we reach up to 500 applicants registered for the event and we only selected 100 participants in order to comply with pandemic protocol. During the event in Hanoi, OCEANS Network collaborated with EMA Viet Nam presented Erasmus Scholarship and introducing Erasmus Student and Alumni Association (ESAA) and its network, followed by presentation from EURAXESS about the opportunity to continue study in doctoral degree and job opportunity in Europe. EU Delegation in Viet Nam shared some updates about Erasmus and EU Activity in Viet Nam following by sharing session and Q&A with Erasmus Alumni that working on EM mentorship in Viet Nam by helping in Erasmus application for student or young people who intent to apply Erasmus Scholarship.
The second event was held in Bali, Indonesia on 29 September 2022. In this event, we targeted internal participant collaborated with EMA Indonesia, EU Delegation in Indonesia, and Polytechnics Negeri Bali. Up to 80 students was selected by the university to join this event. It was a surprised that the student attended our event by wearing Bali's traditional costume, makes the event more meaningful. In this event we focused on promote the scholarship opportunity by involving student in interactive session. Least but not last, we promoted activity under Erasmus Student and Alumni Association (ESAA) and its network and encourage students to participate in event that might be interested for them in the future.
In the end we thankful for the enthusiasm and spirit of participant during our event both in Viet Nam and Indonesian. As we believe that Youth is not a question of age, but it is a response of the spirit. so, we wish that they will always keep the spirit up.
Uswa Alhamid
Bali, Indonesia on 29 September 2022
edited by the service provider
---